Saturdays at the Cross
Please join us as we celebrate what God is doing in Deerfield Beach through Cross Community Church.
Rick Krive, Saturday Worship Leader: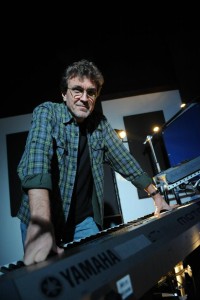 Rick's musical career has spanned 3 decades as an arranger, composer, producer, keyboardist, and vocalist. His music has been heard literally all around the world in movies, television, and has performed with several well known musicians. Rick previously served as Musical Director and Worship Leader at Spanish River Church in Boca Raton. Rick's passion is spreading the gospel to the mission field through worship leader training and mission projects. We're blessed to have him share his gifts and lead us in worship on Saturday evenings.
What will happen during Saturdays at the Cross?
Worship Service
Fellowship
Childcare for ages 6 and under
When: Saturday evenings @ 5pm
5:00-6:00 Family Worship Service
Children ages 7 and up will stay with their parents to experience worship together. Resources for how to help you children get the most out of worship together are located in the back of the sanctuary.
6:00-6:30 Family Fellowship in the Welcome Center
Where: 841 SE 2nd Court, Deerfield Beach, FL 33441

DIRECTIONS