Pastor Tommy Boland, Senior Pastor
On February 1st, 2012, Tommy Boland and his family were launched out of Coral Ridge Presbyterian Church in Fort Lauderdale to be church plant missionaries and the founding pastor of Cross Community Church in Deerfield. A graduate of Knox Theological Seminary with a Master of Divinity, Tommy is now looking forward to working his way through the Doctor of Ministry program at KTS. Tommy is an Ordained Minister in the Presbyterian Church in America. He is the author of a number of Bible Study and Christian Living materials and also contributes monthly to the Good News of South Florida. He is also on the PCA Men's Council and has been a featured speaker at its annual meeting, the General Assembly. On March 6, 1993, Tommy married his best friend Kim who assists him in ministry, and together they have four children, Brock, Jenna, Katie, and Zack. Sports are a huge part of the Boland Family DNA and they all participate in mixed martial arts. Some of his favorite authors include, John Calvin, Jonathan Edwards, Charles Spurgeon, C.S. Lewis, Steve Brown, Tim Keller.
Dr. Sam Lamerson, Pastor of Teaching & Discipleship
Dr. Lamerson currently serves as a President of Knox Theological Seminary in Fort Lauderdale, FL. He holds degrees from Bob Jones University, B.A.; Knox Theological Seminary, MDiv, Magna Cum Laude; Trinity International University, Ph.D. He uniquely combines academic research and teaching with 16 years of pastoral experience, ranging from senior pastor to director of children's ministries. He was also the Sunday morning preaching and teaching pastor during the illness of Dr. D. James Kennedy at Coral Ridge Presbyterian Church, from February of 2008 until Easter of 2009. For more information, click to Knox Theological Seminary When he's not teaching and serving, Dr. Lamerson enjoys sleight of hand and juggling. He is married and has two grown children. His excitement for Cross Community Church is contagious and we are blessed to have his humble service as a teacher and leader in ministry.
Rick Krive, Saturday Worship Leader
Born and raised in Lansing Michigan, educated at Western Michigan University in Kalamazoo, and Florida Atlantic University in Boca Raton, Rick's musical career has spanned 3 decades as an arranger, composer, producer, keyboardist, and vocalist. His music has been heard literally all around the world in movies, television, and has performed with several well known musicians. Rick previously served as Musical Director and Worship Leader at Spanish River Church in Boca Raton. Rick's passion is spreading the gospel to the mission field through worship leader training and mission projects. We're blessed to have him share his gifts to lead us in worship when he's not off traveling the globe.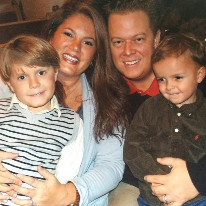 David and Erin Proko, Executive Director, Director of Youth Ministry
Originally both hailing from Massachusetts, David and Erin spent their childhood growing up in south Florida. The two were high school sweethearts at Westminster Academy and married after graduating from the University of Alabama.
They pursued private-sector careers until shortly after the birth of their first son. God's plan for them led to part-time ministry positions volunteering with youth, finance and stewardship leadership roles as Erin transitioned to a stay-at-home Mom and David continued an Executive Sales career. For the next 11 years David and Erin served in whatever capacity was needed at their local church in Coral Springs, FL.
In June 2014, God brought David, Erin, Aidan and Kenton to Cross Community Church where the Proko family humbly serves full-time in various areas of ministry including administration, outreach, inreach, worship, production, childrens and youth ministries. Their deepest passions lay in evangelism via local and foreign mission campaigns. To know this family is to serve alongside infectious, creative and obedient servants dedicated to the steadfast pursuit of the command, "Go and make disciples!".